Are you an investor with an eye for interesting and profitable projects, and believing that when you see a great opportunity, you seize it?
Wealth Hospitality Group invites you to join us in an exciting investment opportunity, The Ridge at Bend, located in the thriving city of Bend, Oregon. The Ridge at Bend is a mixed-use development that will be home to residential condos, retail space, restaurants, and 2 high-end hotels. Through thorough research of recent trends, we believe that this project has immense potential for high returns and we're eager to partner with you to make it happen.
As an experienced family-owned business with nearly two decades of success in construction, ownership, hotel management, and operations, we are confident in our ability to deliver exceptional results on this project, as we have on others.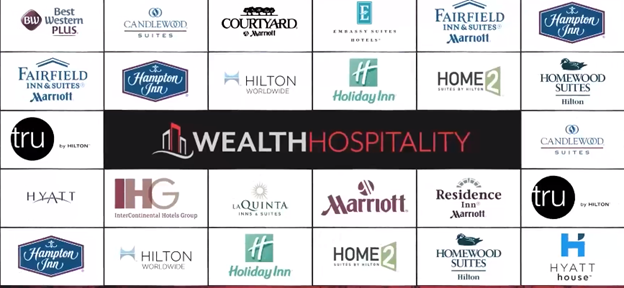 Bend, Oregon, is a city on the rise with a booming tourism industry. Visitors from all over the world flock to the city for its diverse outdoor activities, scenic beauty, and friendly community. With this rapid increase in demand, there's never been a better time to invest in The Ridge at Bend in Bend, Oregon.
The execution of this project will commence in 3 phases.
Phase 1:
Involves building 37 new luxury condos in a competitive housing area. This new development has it all; a great location steps from the Deschutes River trail, unparalleled views of the Deschutes River, upscale finishes & amenities.
Phase 2:
We'll be building the Hyatt House. Hyatt House hotels provide you with the comforts of home—a spacious room, a full closet, a well-appointed bathroom, a cozy living room, and a well-equipped kitchen. This stunning upscale hotel with 115 rooms, retail space, and a 3-level parking garage, this extended stay hotel is sure to provide a great lodging experience that guests will want to visit time and again!
Phase 3:
Finally, we have the construction of an Autograph Collection Hotels by Marriott. This upscale hotel will boast 113 perfectly appointed rooms, an outdoor lounge area, and a rooftop bar. The rooftop bar will overlook the Deschutes River, offering a stunning panoramic view for guests to gaze at and take in.
Visitors from far and wide will be steps away from some of the best hiking, skiing, shopping, and dining the city of Bend Oregon has to offer.
But don't take our word for it, we'll let the statistics speak for themselves:
According to research by "Fly Redmond", Bend, Oregon is a growing community with the 13th fastest population growth in the US, over 1 million airline passengers each year, and 3.97 million overnight visitors in Central Oregon.
Bend is the 3rd most brewery-dense city in the US and was the second most invested city in the States in 2020.
Nearby Mt. Bachelor, Oregon, is the 6th largest ski area in the United States making it the outdoor adventurer's dream. The Mt. Bachelor zip tour is the newest attraction having the longest, steepest, and highest zipline in North America.
Bend, Oregon is also a golfer's paradise, offering ample opportunities to get on the green. With world-renowned destinations like the Pronghorn Golf Club and Tetherow Golf Resort, golfers will experience lush green spaces and stunning landscapes while enjoying a round of golf.
We're excited to partner with Sotheby's International Realty to sell our exquisite condo developments in Bend, Oregon. With Sotheby's reputation and Bend's unique charm, it's no surprise that luxurious condos in the area are selling in just 30-45 days! This is the perfect opportunity to indulge in the ultimate luxury lifestyle that Bend has to offer, from the breathtaking beauty of the outdoors to the city's exquisite dining scene and lively breweries.
Wealth Hospitality Group is uniquely positioned to take on this project and deliver exceptional results for our partners. By investing in this project, you'll not only gain a share of the profits, but you will also work with a team that has earned the support of top-tier hospitality conglomerates, including Hilton, Marriott, Hyatt, Choice Hotels, Intercontinental Hotels Group (IHG), and many more.
What sets us apart from our competitors is our dedication to personalized solutions for the markets we enter and for our investors. We work closely with our clients to understand their needs and goals, and we never accept less than success. With Wealth Hospitality Group as your partner, trust you'll reap the most out of your investment.
We believe in trust, transparency, and results. We understand that earning your trust is paramount, and we are committed to maintaining open communication and keeping you informed throughout the project's lifecycle. We strive for excellence through efficiency, always pushing ourselves to deliver the best possible results.
Eager to forge new partnerships, we invite you to contact us to discover more about this opportunity. Thank you for considering Wealth Hospitality Group as your partner in this Bend, Oregon venture. We look forward to hearing from you soon.